Arch Bishop Judge King
Before Judge received Christ, he worked in the lumber mills in Lake Charles, Louisiana. He carried a pistol and would shoot you where you stood. But one day, not happy being the "mean" man he was, he be prayed and asked God to change him, and God did just that. While eating his lunch, the Spirit of God came into his life and he began to jump, shout, sing, and confessing the good ness of the Lord, so much so that the plant operators shut down all the saws fearing Judge would hurt himself or even be killed. He was so full of the Love of God that the local sheriff followed him home assuring those along the way that Judge was not going to harm them. From that day forward, Judge, along with his wife, Sarah, preached and sang with literally thousands coming to know the saving power of Jesus Christ.

During the early years of Judge and Sarah King's ministry, they did not know how to defend the various ordinances found in the Bible; therefore, these young converts did not baptize, bother about music, or bother with communion and foot-washing. Yet God, in His wisdom and miraculous power, had picked up unlearned people and shared with them His grace and the mysteries of the Holy Ghost. The church sent Judge and Sarah King out into the farming areas, lumber camps, and along the Mississippi River, preaching the doctrine of the earlier leaders. However, because of Judge King's aggressiveness and enlightening sermons on water baptism and other ordinances of the Bible, he was counseled and reprimanded. Unfortunately, their teachings on these important New Testament ordinances would later cost Judge and Sarah King their membership in Christ's Sanctified Holy Church.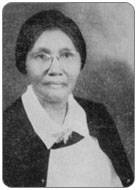 Mother Sarah A. king
If there was one woman who embodied holiness and was sold out for the work of the Lord, it was Mother Sarah A. King. She was a soft spoken woman who seemed as though she could "look right through you," as she taught the precepts of God.
Sarah King was one of the first to speak in tongues while speaking in the Methodist Church. She was branded as a deluded person because the people in the area knew nothing of this new, astounding kind of religion. Strange things happened – she could not control herself (the Holy Ghost.) People said, "Satan had taken over in her. She was weird." In later years, she was persecuted (even by her own husband). He threatened to break up the marriage and leave home because of this strange religion.
It is recorded that one afternoon, Sarah King was sitting in the front room of their home quilting with some of the women, who were new converts. She looked out the door and seeing her husband, Judge King, said, "Here comes my husband and he's sanctified and filled with the Holy Ghost." As he came in the front door, the Holy Ghost fell on her and began to speak through her.
From the time Judge King became sanctified and filled with the Holy Ghost, Sarah King worked faithfully by his side. In those early, pioneering days, it was remarkable to see fifth-graders in the Louisiana Territory and Sarah King, who had been educated through the ninth grade, set up and established a school naming it after Jim Murray, a good man of that area who gave them 20 acres of land. She taught the three "R's" and that marriage was honorable. The challenges of getting a building up were great, but they brought good citizens and businesses together to help Sarah. The Methodist Home Missionary Society of Shreveport also contributed. This inspired Sarah King to set up a Home Missionary Department among the small group of women she had gotten together from the surrounding farmlands.
Sarah King suffered for the Gospel of Jesus Christ. One night while she was preaching, a man burst into the service and shot her down. As she fell to the ground, Judge King stood up and instructed the deacons and mothers to attend to her. This anointed man of God continued on with the topic from which his wife was preaching. Many were saved and filled with the Holy Ghost. Mother Sarah King fully recovered from her gun shot wounds and lived to be 95 years old. Many times as Mother King exhorted and encouraged the Saints, she would say, "When I get to Heaven, I'm going to present the bullets in my body to Jesus and I'm going to say to Him that I took these bullets for the Gospel of Jesus Christ." Then she would look around and simply ask, "What are you going present to Jesus when you stand before Him?"